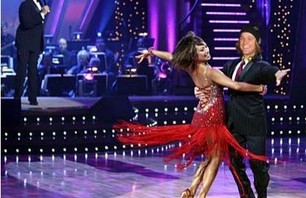 The only question...will Monster and Skull Candy get
their on body branding?
Louie Vito is a pro snowboarder with a lot of charisma. Fast talking, quick walking (short legs) and also pretty damn good in the halfpipe. For our entertainment, those short legs are now going to be tested beyond the Olympic sized trannies of a competitive superpipe. Just announced is Louie's spot on the most recent season of Dancing With the Stars.
Sharing the national stage with b-listers like Kathy Ireland, Chuck Liddell and Kelly Osbourne, we predict Vito will do well utilizing his high flying acrobatic coordination in keeping up with the competition. Our only question?
Will he be able to keep his bearings without the balancing white noise of his ever-present Skull Candy headphones?Tune in and find out. Good luck Vito!