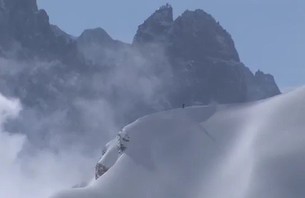 Fred Syversen just prior to hucking 107 meters into
oblivion.
This video is actually pretty old (circa 2008) but it's making another lap around the blogosphere this month for some reason, so I thought it was worth posting again. We all recall Jamie Pierre's world record cliff drop in the Tetons back in 2007. The infamous 75 meter leap of faith that looked like a suicide drop.
Despite the massive fall, Pierre's close encounter wasn't enough to dissuade Fred Syversen for making his own bid on history. Here he drops in on an unassuming line, but before reaching the bottom he inexplicably bangs a hard right while maching and plummets over 100 meters to an unknown fate.

Go to BNQT.com for more videos.