Bethany - single arm and slotted.We all know Bethany Hamilton as the Hawaiian surfing starlet who had her arm morbidly chomped off by a large Tiger shark while surfing Honolua Bay in Kauai a few years back. While most would never find it safe to go back in the water, the then 14-year-old, got back on the proverbial board and became surfing's most notorious one-armed bandita - charging huge surf and even competing amongst the world's best.
She's since traveled the world surfing, giving pep talks to the disabled and existing as a shining example that life's challenges are never as big as the human spirit. Now moving into the film realm, Bethany is starring in a Biographical film, Soul Surfer, to be released later this year. Here's the PR:
Former NSSA National Champion, the 2008 ASP World Junior runner-up, 2009 WQS ranked # 14, and Rip Curl team rider, Bethany Hamilton, will have a theatrical film released tentatively late 2010 based on her inspirational and courageous story.

It's been over six years since Bethany lost her arm in a shark attack that changed her life forever. Since then, Bethany has inspired millions of people around the world, as she has not only continued her dream of becoming a world-class professional surfer, but she has overcome all obstacles to become one of the most well-rounded female surfers in the world. From towing into 20-foot Jaws waves to proving a consummate competition threat in any conditions, Bethany's unfathomable journey has led to the production of SOUL SURFER, a theatrical film based on Bethany's life.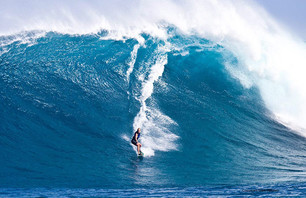 Riding Jaws = badass.
With a star-studded cast including Dennis Quaid, Helen Hunt, Anna Sophia Robb and Carrie Underwood, amongst others, filming has just completed in Hawaii and is a production of SONY/AFFIRM FILMS.

"This is a new step in my life to have a movie made about my family! Being a part of the production was really fun and interesting. Alana Blanchard and I did some stunt surfing for our characters, which was really fun," Bethany recently stated. "I'm so glad to have Rip Curl apart of the movie and keeping the movie core! They have been apart of my life since I was ten years old so its a huge blessing to keep it real."

While Bethany won't be doing any acting (Anna Sophia Robb to play Bethany and Lorraine Nicholson to play Alana Blanchard), both her and Alana will be taking on "stunt duties" by surfing for their characters. Quite simply, only Bethany Hamilton and Alana Blanchard are at the performance level to represent themselves.

Rip Curl is both honored and excited to partner with Bethany, who has been a Rip Curl surfer for 10 years, on the making of this amazing production, but also to support her as she strives for 2011 ASP Women's World Tour qualification.
For more information on SOUL SURFER, please visit www.soulsurferthemovie.com or www.bethanyhamilton.com