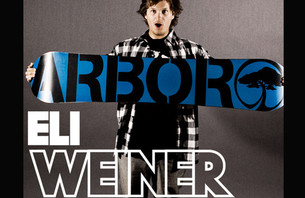 Arbor team rider - Eli Weiner
Arbor Snowboards is proud to welcome Eli Weiner to their national snowboard team. "Braaaaaup...Eli has been riding Arbor snowboards for a few months but this press release will make it official," says Arbor's team director, Brad Farmer. "He's a great guy who has become a good friend and someone who I'm amped to have on the team. He'll be holding it down for Arbor in Big Bear as well as getting out around the country filming for various projects. If you haven't seen his part in Bear Mountain's new movie, Paint It Red, make sure you check it. Eli is also featured frequently in Sunday In The Park episodes on the Transworld Snowboarding website throughout each season. Welcome to the family Eli Weiner!"
"I love Arbor and it's not because I'm a Panda Bear," says Weiner, "although...if I were a Panda, I'd be pretty excited abut all of the bamboo they use. Seriously though, Arbor is like a big family. It's nice to feel like I'm a part of something and not just a number. Their riders have a lot of input on the direction of the brand and the products. It's a great crew and I think you can expect to see some more good things coming from Arbor over the next few years. This season, I'll be riding at Bear Mountain a ton, traveling around the country working on some filming projects and looking for powder in new places. Oh, and I'll be following Chelone Miller around shouting, 'Hey Chilly...go bigger!"
Arbor Snowboards will be announcing five new team riders over the next five weeks and Eli Weiner is 1 of 5.
For More On Eli Weiner Click Here.